American Business Research Services, Inc.
Ms. Lisa Lashaway, President of American Business Research Services, Inc. (ABRS), has over 20 years training, experience and success in the fields of Market Research,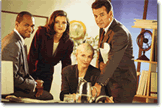 Marketing and Public Relations.
ABRS is comprised of a team of highly trained, experienced researchers. The team takes on every project with enthusiasm and dedication, furnishing clients the most accurate and reliable research results obtainable.
ABRS has completed hundreds of research projects for large and small companies in diverse industries, providing the knowledge that lays the foundation for the success of clients. ABRS prides itself on being extremely reliable, thorough, detail and result oriented. We take the extra step to ensure our clients are enthusiastically satisfied.